What do you need for a cash loan and how does it work?
11 AUGUST 2023
Cash loans come in a variety of forms, from short-term loans that you can repay in a few weeks to long-term loans that you repay over a longer period.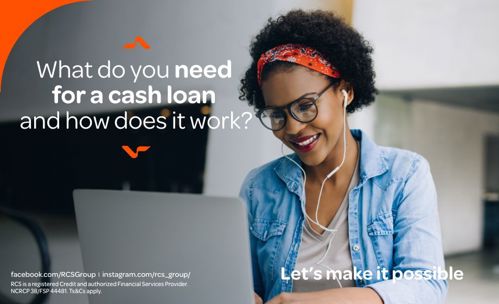 A cash loan is a contract you sign in order to borrow money. Cash loans come in a variety of forms, from short-term loans that you can repay in a few weeks or months to long-term loans that you repay over a period of five years or more. If you handle your loan correctly, it may enable you to pay for something you urgently require but can't currently afford. You must agree to repay the loan in monthly instalments plus interest, which means you will ultimately pay more than you borrowed, as a price for this convenience.
In South Africa, you also get instant cash loans
This type of loan application process is quicker and paperless compared to conventional methods. Many customers opt for rapid cash loans when they need money right away. It may be to cover the cost of an asset purchase, a medical emergency, travel expenses, or other unplanned events. The pace of processing is quick and simple since you can apply for a loan from the comfort of your home and have it approved quickly.
You simply select a lender that you believe to be reliable and submit a loan application. Your request will be approved immediately if the necessary documentation is in order and all requirements are met.
To apply for any loan, you must be at least 18 years old and have the following documents:
A valid South African ID
Lenders must be able to verify your identity, for reasons like identity theft, to verify that you're at least 18 years old and a citizen of South Africa. They might also want to make sure that your bank account is legitimate and functioning. Your identification document can usually be copied so that you don't have to provide the lender with your originals. Once you've done that, be careful to keep the originals safe so you don't lose them.
Bank statements for the past 3 months (usually with a bank stamp)
The lender checks to see whether the payments entering your account match the income you reported on your application. They also make sure you have enough cash on hand to pay the loan's monthly instalments. A key issue is affordability, so this is what they want to ensure.
Proof of your salary or proof of employment
Lenders are searching for indications that you have a steady stream of income and that you have enough extra money or savings to be able to make your monthly repayments.
Once your loan application is processed and approved, you would get the agreed cash amount, known as a"disbursement" into the stipulated bank account.
Payday Loans
Payday loans are short-term borrowing arrangements that provide instant cash. Typically, for these types of loans, lenders are more lenient in terms of checking credit records. It's simple to be approved for a payday loan. You must be at least 18 years old, have an active bank account that is in good standing, and have a minimum amount of regular income. The repayments are due on your next payday. The loans often come with high-interest rates, and therefore shouldn't be used carelessly.
All loans come at a cost, i.e. interest. Always weigh the pros and cons for each type of loan and consider setting up an emergency fund account into which you slowly put money each month, even if it's not big amounts at a time, these will add up and possibly help you avoid adding on debt, especially the more expensive debt, such as payday loans.
MORE ARTICLES ABOUT
RELATED ARTICLES