What is a student loan?
10 AUGUST 2023
If you're a student, you know exactly how expensive tertiary tuition can be. That's why student loans are there, to help you manage the financial responsibilities that come with tuition. These student loans are different in comparison to comparisons or grants. However, there are a few things you need to remember that can help you manage student finances even more.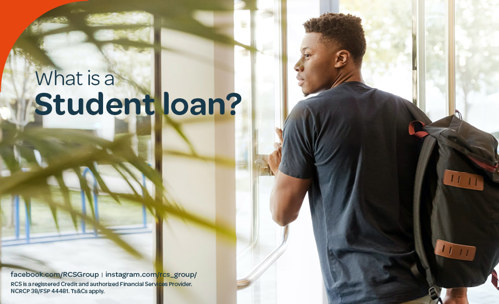 How do student loans work?
We all know that student loans come hand in hand with tertiary education. But how do they work? Student loans are a type of loan, i.e. money that is lent to you from a lender, the government, or the bank that needs to be paid back over some time along with interest. Student loans are used to pay for tuition as well as boarding, textbooks, food, and other student expenses. Scholarships, bursaries, and grants are not required to be paid back, which makes them different from student loans.
If you're needing financial aid, you would apply through your university/college. They will then calculate, according to your family's financial means and other factors, how much financial aid you would require. This can then be offered as a loan, a scholarship, or a bursary. You could also apply for a student loan through your bank or an independent lender. Once you've accepted the loan, an agreement is signed that states you will pay back the loan plus interest each month.
Different types of student loans
Bank-issued
The most popular banks for student loans are First National Bank, Standard Bank, Nedbank, and Absa Bank. Each bank offers its own type of student loan, so it's important to research which would be appropriate for you.
Government-issued
The National Student Financial Aid Scheme (NSFAS) is the most popular student loan provider. The process with NSFAS is made simple by helping you every step of the way even if you do not have a parent to help with payments.
Independent credit providers
An independent credit provider like RCS, Eduloan or Fundi provides student loans. Learn more about each offer before you make your final decision.
Assess each provider's offerings to determine which loan would be the best for your future.
Are student loans good or bad?
Like any other loan, there are pros and cons that you need to consider. If you keep track of things to avoid and manage your finances, your student loan will help you reach your academic and career goals. The key is to avoid incurring bad debt, which could set back these goals. To do this, make sure that you understand what will be required of you when you graduate and will need to pay back your loan once you start working and earning an income.
A student loan is a good thing when you've made adequate plans and provisions for the upkeep of your loan. These could be starting to budget and having an education/career plan so that you know how long you'll be studying and when you will start working. It's important to have some money in savings or from working part-time just in case as well.
What do you need for a student loan application?
Each different lender has its own requirements, however, the following are standard requirements that you need to ensure you have:
You need to be at least 18 years of age.
A valid South African ID.
A bank account
Proof of residence.
3 – 6 months of bank statements.
Proof of your income, or your parents' income.
Important things to consider
Interest: Your student loan interest works the same as any loan type interest. However, interest rates could be lower than other interest rates, as the loan term could be longer.
Liability: As the principal debtor, the responsibility of paying back the loan falls on you. You should avoid defaulting on your loan as it could hurt your credit score in the future.
Repayment plan: To make things easier for you, set up a repayment plan so that you can manage your finances and keep up with monthly repayments.
Refinancing your student loan: If you start earning an income or your credit score increases, you could refinance your loan. This means that you could access better interest rates or loan terms. Consider refinancing your loan if your financial status has improved and you could benefit from better interest rates.
Financial omissions to avoid as a student
Not having a budget
With so many budgeting methods and tools available for free online, you should have no reason not to have a budget.
Not taking advantage of student discounts
One of the many perks that come along with being a student, is having access to student discounts. These could be for food, clothes, textbooks, or other essential student items. Make sure you keep your eye out for some good deals!
Borrowing more than is necessary
With a student loan, it's best to avoid taking out more debt to give yourself the chance to pay back your existing loans and save up.
Not working part-time
Although not everyone has the time and energy to have a part-time job while they're studying, it can help you save up for when you need to pay back or for those expenses that you just can't do without. Read all about the financial pros and cons of working while studying.
Managing your finances along with your student loan is key to making sure you utilise the full advantages of having a loan. Look into what type of student loan will be best suited for you to help you reach your goals and career dreams.
MORE ARTICLES ABOUT
RELATED ARTICLES