Loaded With Benefits: The Advantages Of Taking Out A Loan
11 AUGUST 2023
Sometimes in life, we are in need of extra support to reach a certain goal or milestone we have. Loans are amounts of money borrowed out by banks and other financial institutions for a set period of time. This financial support can be used for business or personal purposes, giving us the freedom to achieve our dreams.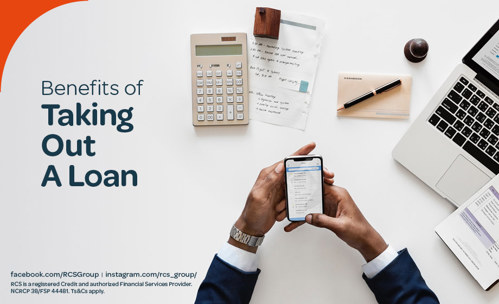 BENEFITS OF TAKING OUT A LOAN
In general, taking out a loan has many benefits if all considerations are taken into account:
They can improve your credit score if handled responsibly, which can, in turn, open up more doors when having to make larger purchases.
In the case of an emergency, for example, a fire or medical expenses, a loan can be taken out to avoid using your savings.
Loans are flexible in terms of their interest rates, the loan period length and the amount given. These could all be negotiated to suit your needs and can be amended if your circumstances change, in certain cases.
Application and approval processes are fast, avoiding a long drawn out process, giving you access to a loan when you need it.
TYPES OF LOANS
Loans can be used and provided for a multitude of reasons and needs. It is important to know what type of loan you are looking for. These are as follows, amongst others:
Personal loans
Student loans
Small business loans
Home loans
Vehicle finance
Each of these loans are catered for their specific purpose in terms of the repayment periods and interest rates. In turn, they have their own associated benefits and advantages. From business financing to your first home.
ADVANTAGES OF DIFFERENT TYPES OF LOANS
Personal loan advantages
Personal loans can help us reach life milestones.
They can be used for paying for weddings, financing a new child in the family, or for much-needed home improvement.
They allow for easier growth in life and investment into your lifestyle.
Student loan advantages
Student loans are extremely common when embarking on your tertiary education career, without having to worry about your financial situation.
With lower interest rates and longer repayment periods, student debt can be avoided if consistent monthly repayments are made.
Before taking a loan do research on what student loan would be best for you.
Small business loan advantages
Start-up capital is crucial, and loans can provide the much-needed cash flow to build a solid foundation for your business.
Loans can also allow for investments into large assets or projects, which are sometimes needed to ensure the growth of your business.
Small business loans encourage the development and expansion of your business into new markets or premises if they are managed correctly.
Interest on business loans is tax-deductible, along with a fixed interest rate. This ensures that budgeting and planning for repayments is easier.
CONSIDERATIONS WHEN TAKING OUT A LOAN
Although loans can assist in making financial decisions and endeavours easier, if they are not planned for appropriately, loans could incur larger losses and debt.
To avoid this, pre-emptively account for the possibility of taking out a loan when you are able to. For example, when buying a new home or starting a new business. This means being prepared for keeping up with monthly payments along with interest. It is thus not advisable to take out loans against ongoing expenses, causing you to fall into a cycle of payments.
Loans can also be secured against assets of your business or your personal possessions. Although these interest rates may be lower, if you are unable to repay consistently, you run the risk of losing your assets.
There are solutions to help if you may find yourself overwhelmed or over-indebted. Consolidation loans are provided to cover existing loans on your name, which may not be suitable for certain circumstances. Debt consolidation does not involve taking out further credit, rather consolidates debt so that you are able to meet their repayment amounts, by increasing the repayment period and decreasing the monthly amount owed.
PERSONAL LOAN APPLICATION
Today, banks and financial institutions allow online applications for a personal loan. This process is simple and efficient, and approval is most often speedy.
Taking out a personal loan with RCS is fast and paperless. Benefits include:
A cash loan from R2 000 up to R250 000
Decision in seconds
Cash in your account within 24 hours
Flexible repayment options; choose from 12 to 60 months
Free monthly statement via email or SMS
Customer Protection Insurance
Interest from as low as 15%
Loans have many advantages and can prove to be beneficial when they are needed, for example, emergencies and having to invest in the future. The most important thing to consider is being able to repay the loan and not falling into debt. Paying off your loans early is the best solution and can ultimately improve your credit score. Take out loans responsibly and benefit from long-term advantages.
MORE ARTICLES ABOUT
RELATED ARTICLES